Review of "melancholia" in the Musician's Union magazine "The Musician", Summer 2019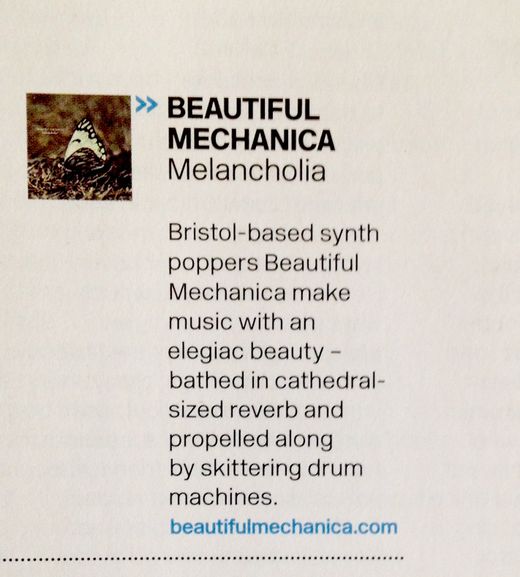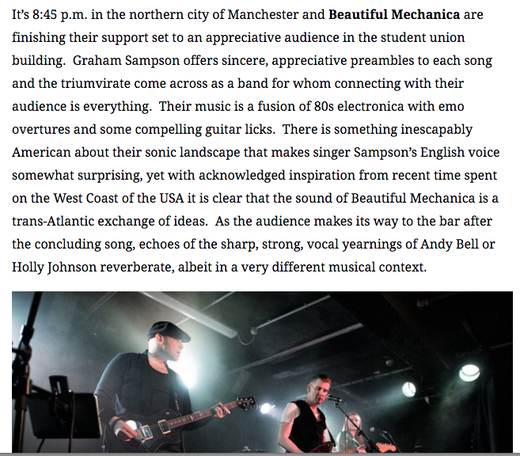 PULSE MAGAZINE MARCH 2019 PRE-RELEASE REVIEW OF "MELANCHOLIA"
BEAUTIFUL MECHANICA 'Melancholia' (Self Released Album, February 2019)
February 2019 was due to see the release of beautiful mechanica's long awaited second album. A change of plan finds in its place this intriguing curio 'Melancholia'. It features 7 remixed and remastered tracks from their debut album ('This Hotel Has Ghosts') along with 3 tracks from the promised second record. 'Melancholia' is more than a compilation as the songs sit well together and make up a satisfying, cohesive whole.
"Last night I dreamt I went to Manderley again" (du Maurier, Rebecca)...
...and there is something of that ethereal, ghostlike, otherworldly quality that emanates from beautiful mechanica. Indeed album opener 'This Swedish House' is like standing at the gates of (the fictional) Manderley: strange but familiar, cold and convivial, circadian yet enchanting. 'This Swedish House' begins with a cascading motif that gently draws you into beautiful mechanica's world. Like the threshold between consciousness and sleep it's a musical hypnagogia that transports you to an esoteric plane. Grace Bailey-Hinks' vocals float over the music celestially and gently anchoring the listener with a fine gossamer thread.
In a brave move that sequences the songs 'Melancholia' is presented as one long piece of music. It's an example of a risk that works and, while it's obvious where each song ends and begins, an overarching empyreal quality unites the album. So when next track 'Always the Same' finds Graham Sampson singing a falsetto the vocal duties are exchanged seamlessly and you briefly question 'Who's this singing? Grace or Graham?'. In an interesting tension of opposites third song 'See How They Play' seems to dance in the sunlight and marries a jaunty up beat guitar line to some dark lyrics. And this mirror effect is continued as 'Not Evermore' hides from the light and steps into the shadows.
A true democracy Grace and Graham share vocals throughout and tailor voices to each song which makes perfect sense. If you've got two voices, why not use them: the beautiful and fragile 'Pocketbooks of Butterflies' is handled by Grace while the hurt, questioningly bitter 'Freezing' is ably sung by Graham. 'This Dark is Your Soul' is the last of three new tracks debuted and will have fans intrigued and impatient for the new album. The final two tracks on the album offer little in the way of redemption, 'The Goodbye Movement' with Grace's spoken word evoking images of tearful farewells on sooty, smokey platforms while 'Damaged Goods' ends on a rather ominous tone fading to a silence that's almost deafening.
beautiful mechanica are a band who find solace in sadness and fully grasp the bittersweet nature of life. Like much of their work 'Melancholia' has a very low key release which is a shame because the band really deserve and seem destined for a big audience. But until that day they're our secret...
Peter Dennis.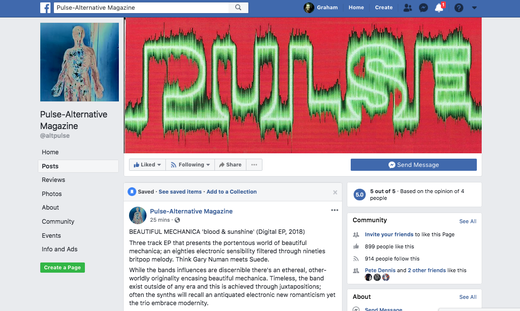 Online review of our "blood & sunshine" EP by Peter Dennis of Pulse Magazine
BEAUTIFUL MECHANICA 'blood & sunshine' (Digital EP, 2018)
Three track EP that presents the portentous world of beautiful mechanica; an eighties electronic sensibility filtered through nineties britpop melody. Think Gary Numan meets Suede.
While the bands influences are discernible there's an ethereal, other-worldly originality encasing beautiful mechanica. Timeless, the band exist outside of any era and this is achieved through juxtapositions; often the synths will recall an antiquated electronic new romanticism yet the trio embrace modernity.
However beautiful mechanica do recall a time when bands were about more than just music. Like the Sex Pistols drawing upon existentialism, The Smiths exploring canonical literature or The Doors re-evaluating philosophy mechanica draw upon artists such as Andy Warhol and Arthur Hughes to give their work a thematic depth. The bands debut album, 'This Hotel Has Ghosts', was an enthralling tour of New York's Chelsea Hotel while this latest EP explores the dark underbelly of the City of Angels. Opening cut 'heaven's where you want it' sees the band perfectly peel back the veneer of respectability. A jaunty, jangly riff shimmers like the sea until dark electronics intercede and the track ebbs and flows between the two and it's precisely this tension of opposites that makes the song so intriguing.
A true democracy Graham Sampson cedes vocals to keyboardist Grace Bailey-Hinks on 'shimmer in the after glow' and for this track it's the right decision as her voice gently caresses the cascading guitars. They both share vocals on the cinematic 'not evermore' a track that reminds me of The Doors' 'Moonlight Drive', not so much musically but atmospherically. Riding pillion the band drive you through a rather discombobulating nocturnal soundscape.
Graham Sampson drew inspiration for this EP whilst visiting Los Angeles and beautiful mechanica really capture some of that city's light and shade and present it to you in this musical postcard.
Peter Dennis
bristol fleece 26/2/18
Press Archive
by jonathon kardasz, B24/7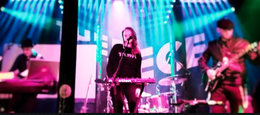 "this outfit have got it sussed - decent tunes, plenty of skill & an ability to synthesise their influences & produce 21st Century electronica free from cliché & imitation"