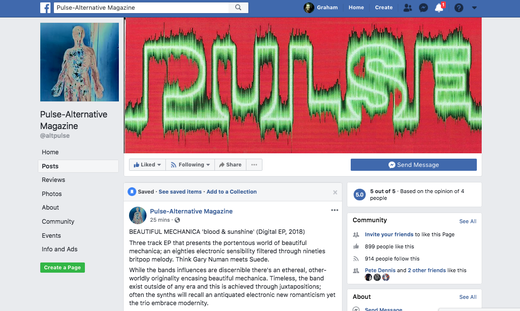 Online review of our "blood & sunshine" EP by Peter Dennis of Pulse Magazine
BEAUTIFUL MECHANICA 'blood & sunshine' (Digital EP, 2018)
Three track EP that presents the portentous world of beautiful mechanica; an eighties electronic sensibility filtered through nineties britpop melody. Think Gary Numan meets Suede.
While the bands influences are discernible there's an ethereal, other-worldly originality encasing beautiful mechanica. Timeless, the band exist outside of any era and this is achieved through juxtapositions; often the synths will recall an antiquated electronic new romanticism yet the trio embrace modernity.
However beautiful mechanica do recall a time when bands were about more than just music. Like the Sex Pistols drawing upon existentialism, The Smiths exploring canonical literature or The Doors re-evaluating philosophy mechanica draw upon artists such as Andy Warhol and Arthur Hughes to give their work a thematic depth. The bands debut album, 'This Hotel Has Ghosts', was an enthralling tour of New York's Chelsea Hotel while this latest EP explores the dark underbelly of the City of Angels. Opening cut 'heaven's where you want it' sees the band perfectly peel back the veneer of respectability. A jaunty, jangly riff shimmers like the sea until dark electronics intercede and the track ebbs and flows between the two and it's precisely this tension of opposites that makes the song so intriguing.
A true democracy Graham Sampson cedes vocals to keyboardist Grace Bailey-Hinks on 'shimmer in the after glow' and for this track it's the right decision as her voice gently caresses the cascading guitars. They both share vocals on the cinematic 'not evermore' a track that reminds me of The Doors' 'Moonlight Drive', not so much musically but atmospherically. Riding pillion the band drive you through a rather discombobulating nocturnal soundscape.
Graham Sampson drew inspiration for this EP whilst visiting Los Angeles and beautiful mechanica really capture some of that city's light and shade and present it to you in this musical postcard.
Peter Dennis
bristol fleece 26/2/18
Press Archive
by jonathon kardasz, B24/7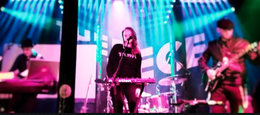 "this outfit have got it sussed - decent tunes, plenty of skill & an ability to synthesise their influences & produce 21st Century electronica free from cliché & imitation"